A Deutsche Bank AG branch in the financial district of Frankfurt, Germany, on Friday, May 6, 2022.
Alex Kraus | Bloomberg | Getty Images
Deutsche Bank on Thursday reported a net profit of 1.158 billion euros ($1.28 billion) for the first quarter, emerging from a turbulent month that saw it swept up in market fears of a global banking crisis.
Net profit attributable to shareholders was comfortably above a consensus forecast of 864.54 million euros produced by a Reuters poll of analysts, and up from 1.06 billion euros for the first quarter of 2022.
This marked an 11th straight quarter of profit for the German lender after the completion of a sweeping restructuring plan that began in 2019 with the aim of cutting costs and improving profitability.
"Our first quarter results demonstrate the relevance of our Global Hausbank strategy to our clients and underscore that we are well on track to meeting or exceeding our 2025 targets," said CEO Christian Sewing.
"We aim to accelerate execution of our strategy through a number of measures announced today: raising our ambitions for operational efficiency, boosting capital efficiency to drive returns and support shareholder distributions, and seizing opportunities to outperform on our revenue growth targets."
The Thursday report nevertheless showed deposits fell over the course of the quarter to 592 billion euros from 621.5 billion euros at the end of 2022. The bank said the decline was "driven by increased price competition, normalization from elevated levels in the prior two quarters and market volatility at the end of the quarter.
Deutsche's corporate bank net revenues came in at 2 billion for the quarter, up 35% year-on-year and the highest quarterly figure since the launch of its transformation program. Net interest income was the main driver, growing 71%.
However, the bank also flagged job cuts for non-client facing staff and reported a sharper-than-expected 19% year-on-year fall in investment bank revenues year-on-year.
"The bank is currently implementing additional efficiency measures across the front office and infrastructure," it said in the report.
"These include strict limitations on hiring in non-client facing areas, focused reductions in management layers, streamlining the mortgage platform and further downsizing of the technology centre in Russia."
Other data highlights for the quarter:
Revenues came in at 7.7 billion euros, up from 7.33 billion euros in the first quarter of 2022, despite what the bank called "challenging conditions in financial markets" during the quarter.
Provision for credit losses stood at 372 million euros, compared to 292 million euros a year ago.
CET 1 capital ratio, a measure of bank solvency, stood at 13.6%, up from 12.8% a year ago an 13.4% the previous quarter.
The beat on earnings expectations follows a 1.8 billion euro net profit for the final quarter of 2022, which vastly outstripped expectations and brought the bank's annual net income to 5 billion euros. However, uncertainty around the macroeconomic outlook, along with weaker-than-expected investment bank performance, kept traders cautious on the company's stock.
The market turmoil triggered by the collapse of U.S.-based Silicon Valley Bank in early March, which eventually resulted in the emergency rescue of Credit Suisse by UBS, briefly engulfed Deutsche Bank late last month despite its strong financial position.
Its Frankfurt-listed stock plummeted, while credit default swaps — a form of insurance for a company's bondholders against its default — soared, prompting German Chancellor Olaf Scholz to publicly dispel market concerns.
'Natural beneficiary' of Credit Suisse demise
CFO James von Moltke told CNBC on Thursday that the March banking turmoil had enabled the bank to prove its mettle to a skeptical market.
"It was an interesting market environment in March, for sure. We were tested, and I think the silver lining of the test is we passed, and I think we passed with flying colors," he said.
"The market was looking for vulnerabilities in banks with this surprise out of the U.S. regional banking sector. It was looking for securities losses, interest rate mismanagement issues, commercial real estate exposures, and many other sort of features."
He suggested that, in scrutinizing Deutsche Bank, market participants saw a strong and profitable business model, stable balance sheet and deposit base, a "very moderate" and "well underwritten" commercial real estate book and "no near-term financing needs."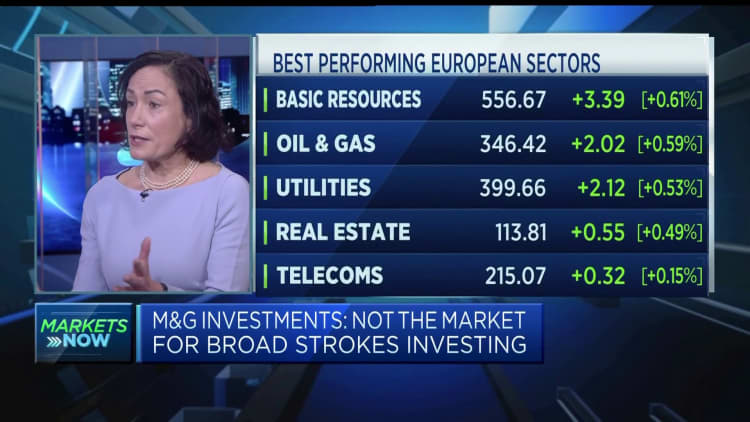 "So across the various dimensions, when the market took a good look at us, what they saw was a stable, well-run well-risk managed bank," von Moltke told CNBC's Annette Weisbach.
In light of the emergency rescue of Credit Suisse by UBS, von Moltke also suggested that Deutsche Bank would be a "natural beneficiary of fallout" from the stricken Swiss lender's demise.
"We admire the management team at UBS and we think that that competitor will be formidable with the passage of time but equally, a concentration of the banking relationships with now one provider for many of their clients is something that you' expect to see them diversify," he said.
"And we think we're a natural destination for some of their clients, some of their people, some of the business, and I think we're well-positioned to profit from that opportunity."
Read the full article here