First Republic Bank's shaky deposit footing and dismal earnings report won't trigger the chain reaction that investors fear, Jim Cramer said on Tuesday, but could still drag on the market. 
Unlike other bank failures, including Silicon Valley Bank's recent collapse, First Republic's troubles have largely stemmed from its inability to save itself, even with a multi-billion dollar lifeline from other major banks, he explained. 
"There's one big difference between now and 2008: This time there is no systemic contagion," Cramer said. "It's a miserable moment for First Republic — once a bank beloved by the rich and famous — but it's an all-clear event for everyone else." 
Outside of First Republic, which saw its stock tumble over 49% on Tuesday, there were some other big losers on the day. UPS dropped nearly 10% on a disappointing earnings report, while life science and medical diagnostics company Danaher fell 8% and hit a 52-week low.
But there were plenty of winners Tuesday. PepsiCo boosted its outlook for the year and hit a new 52-week high. General Electric also beat on the top and bottom lines, while McDonald's hit a new 52-week high. 
After the close, Chipotle beat estimates while tech giants Microsoft and Alphabet also exceeded analysts' expectations. 
"While all three stocks jumped in after-hours trading, it might not matter, though, to tomorrow's action, given the obsessive focus on this broken, darn bank," Cramer said.
In response, a First Republic spokesperson told CNBC: "We remain fully committed to serving our communities, and we are grateful for the ongoing support of our clients and colleagues. Despite the uncertainty of the past two months, and while average account sizes have decreased, we have retained over 97% of client relationships that banked with us at the start of the first quarter."
Sign up now for the CNBC Investing Club to follow Jim Cramer's every move in the market.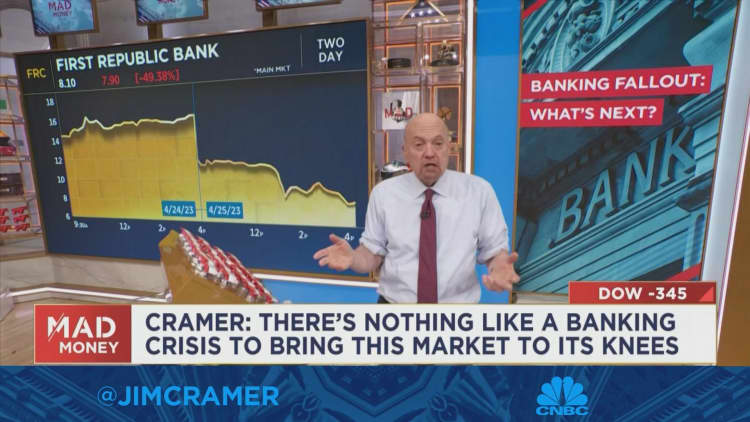 Read the full article here