Jamie Dimon, chairman and chief executive officer of JPMorgan Chase & Co., during a Bloomberg Television interview at the JPMorgan Global High Yield and Leveraged Finance Conference in Miami, Florida, US, on Monday, March 6, 2023.
Marco Bello | Bloomberg | Getty Images
The crisis that led to the downfall of three regional U.S. banks in recent weeks is largely over after the resolution of First Republic, according to JPMorgan Chase CEO Jamie Dimon.
JPMorgan emerged as the winner of a weekend auction for First Republic after regulators decided that time had run out on a private sector solution. The Federal Deposit Insurance Corporation seized the bank and New York-based JPMorgan announced early Monday that it was acquiring nearly all of the deposits and most of the assets of First Republic.
related investing news
"There are only so many banks that were offsides this way," Dimon told analysts in a call shortly after the deal was announced.
"There may be another smaller one, but this pretty much resolves them all," Dimon said. "This part of the crisis is over."
In the wake of the sudden collapse in March of Silicon Valley Bank and Signature Bank, investors have punished other lenders that had similar characteristics to SVB. Companies with the highest percentage of uninsured deposits and losses on their balance sheet were most scrutinized.
The March turmoil exposed poor management by some midsized banks that essentially bet that interest rates wouldn't rise; when rates did rise, the banks were caught "offsides" with unrealized losses from bonds on their balance sheet.
But the $30 billion injection of deposits into First Republic last month bought time for the industry, allowing mid-sized banks to report first-quarter results in recent weeks that in many cases showed a stabilization of deposits. That eased investors' fears that many more lenders would soon topple.
Shares of regional banks including PacWest and Citizens Financial slumped in premarket trading.
Down the road, investors are still exposed to risks created by the Federal Reserve's interest rate hikes and their impact on assets including real estate, Dimon added.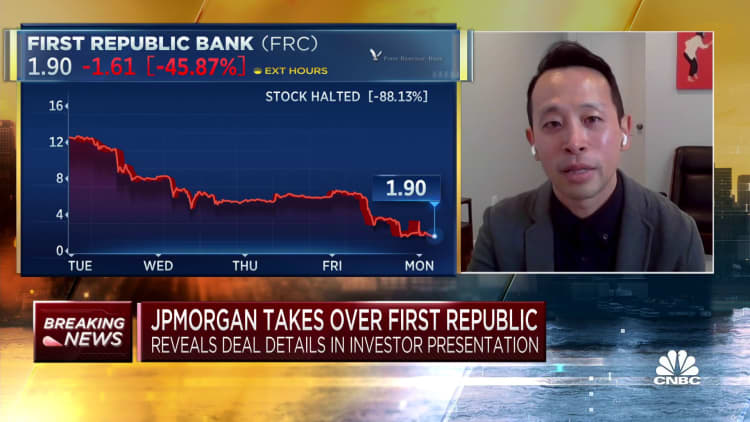 Read the full article here