A man looks at frozen foods for sale at a Dollar Store in Alhambra, California on August 23, 2022.
Frederic J. Brown | AFP | Getty Images
Among all rising costs, sky-high grocery bills have been especially painful.
Although the consumer price index, an inflation gauge that measures the cost of a broad basket of goods and services, started to ease as of the latest reading, food prices were up yet again, the U.S. Department of Labor reported.
Over the past year, food prices overall have risen more than 10%. Egg prices, alone, soared 60%, butter is up more than 31% and lettuce jumped 25%, according to Labor Department data through December.
As a result, consumers are looking for any — and all — ways to save. For some, that means shopping at their local dollar store.
Dollar stores are pulling in more grocery shoppers
Slowly but surely, discount dollar stores' share of total grocery spending has been creeping up, according to a recent report from Coresight Research. Already, more than 1 in 5 consumers buy groceries at dollar stores, according to Coresight's weekly U.S. Consumer Tracker.
A separate study published in the American Journal of Public Health also found that dollar stores were the fastest-growing food retailers, in part because they are expanding at an unmatched pace, especially in rural areas.
More from Personal Finance:
64% of Americans are living paycheck to paycheck
Almost half of Americans think we're already in a recession
Why inflation soared for 10 items in 2022
To lure shoppers, the country's category giants — Dollar General and Dollar Tree, which owns Family Dollar — have been adding stores and remodeling with more refrigeration units and expanded grocery offerings, including healthier foods and fresh produce, the Coresight report found.
"If the two retailers continue to improve the quality of their fresh food while maintaining the low prices associated with their brands, there is a high chance it will bolster their value proposition with their existing consumer base and also pull in new customers from higher-priced retailers," the report said.
'It's about making your dollar go a little further'
These days, shoppers are considering alternatives, especially if it means better prices, said Julie Ramhold, consumer analyst with DealNews. "It's about making your dollar go a little further."
However, the value is not always there, she added. Despite the name, "you will be hard-pressed to find items that are just a dollar." It's important to check the unit price and compare with the offerings at other stores, including Walmart and Trader Joe's, Ramhold said.
In addition, the grocery assortment will still be smaller than what you would find at a supermarket or a warehouse club. For example, the selection of fruits and vegetables may be limited to more shelf-stable offerings like bagged salad mixes and bananas, Ramhold said.
Further, with less turnover, you are more likely to find items near the expiration date. "It's important to check 'best by' dates," she cautioned.
To that end, Ramhold advises shoppers to focus on staples, such as rice, pasta and dried beans, which can also be tailored to fit different cuisines and don't cost very much.
("The Dollar Store Cookbook," available on Amazon, has recipes that are mostly limited to such pantry-stable ingredients, including a creamed tuna on toast made with canned tuna and cream of celery soup.)
Top tips for saving on groceries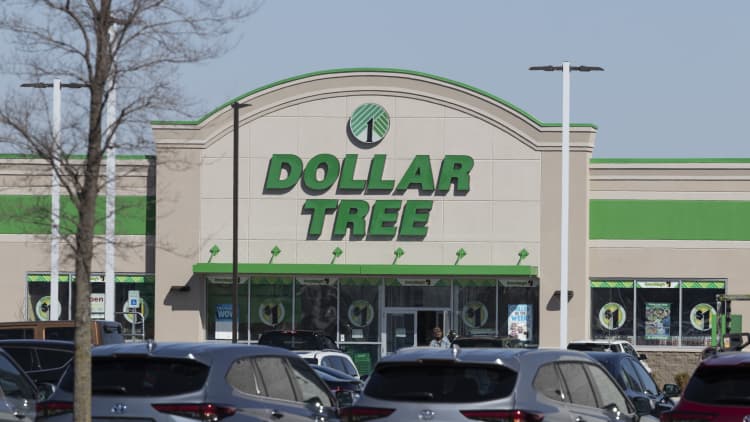 With food inflation persisting, savings experts share their top tips to spend less on groceries, regardless of where you shop.
Scrutinize sales. Generic brands can be 10% to 30% cheaper than their "premium" counterparts and just as good — but that's not always the case. Name brands may be offering bigger than usual discounts right now to maintain loyalty, so it's important to price check.
Plan your meals. When you plan your meals in advance, you're more likely to just buy the things you need, said Lisa Thompson, a savings expert at Coupons.com. If planning's not your thing, at least go shopping with a rough idea of what you'll be cooking in the week ahead to help stay on track and avoid impulse purchases, she added.
Buy in bulk. When it comes to the rest of the items on your list, you can save more by buying in bulk. Joining a wholesale club such as Costco, Sam's Club or BJ's will often get you the best price per unit on condiments and nonperishable goods. Then, keep your pantry organized, with food closer to expiration in front so you know to cook or consume them before they go bad, advised consumer savings expert Andrea Woroch.
Use a cash-back app. Ibotta and Checkout 51 are two of the most popular apps for earning cash back at the store, according to Ramhold. The average Ibotta user earns between $10 and $20 a month, but more active users can make as much as $100 to $300 a month, a spokesperson told CNBC.
Pay with the right card. While a generic cash-back card such as the Citi Double Cash Card can earn you 2%, there are specific grocery rewards cards that can earn you up to 6% back at supermarkets nationwide, such as the Blue Cash Preferred Card from American Express. CNBC's Select has a full roundup of the best cards for food shopping along with the APRs and annual fees.
Subscribe to CNBC on YouTube.
Read the full article here