On the heels of the Great Resignation, some workers are even more motivated to leave their job in search of a better work-life balance.
To that point, 56% of the workforce is likely to look for a new job in the year ahead, up from 51% in 2022, according to Bankrate's 2023 job-seeker survey.
In addition to higher pay, workers said that more flexible hours and working remotely are now what's most important to them.
"The nature of work is shifting for a lot more people," said Sophia Bera Daigle, CEO and founder of Gen Y Planning, a financial planning firm for millennials.  
Even among hybrid workers, many would prefer to spend more time working from home than they currently do, according to Bankrate.
Of those who are working from home some of the time, half say they'd like to do so all or most of the time. And roughly one third of those who are currently working from home most of the time said, if they had the choice, they'd like to work from home all the time.
Even before the pandemic, Bera Daigle, a certified financial planner and a member of CNBC's Advisor Council, knew the daily grind wasn't for her. After working at traditional financial planning firms since 2007, she quit to be free to work from wherever she wanted.
Despite fears of a recession, there are still plenty of opportunities out there for job seekers seeking a similar arrangement.
Workers have an edge in a cooling but strong job market, experts say, and that gives them the ability to push back on return-to-office mandates.
How to become a digital nomad
For many, the life of the digital nomad is the ultimate goal.
This lifestyle is becoming a lot more popular as the trend of remote working accelerates. The number of digital nomads in the U.S. increased 9% in just 12 months from 2021 to 2022, to a total of almost 17 million, according to the jobs platform MBO Partners.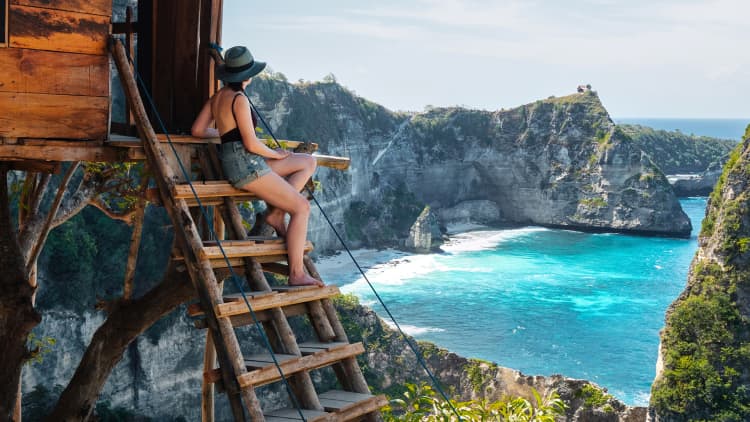 If you're contemplating a major career move so you have more location flexibility or don't have to commute, there are a few things you need to do first, Bera Daigle said.
1. Pay down debt. Before leaving your current position, Bera Daigle recommends strengthening your financial standing by paying down debt, particularly high-interest credit card balances, to improve your monthly cash flow so you can set more money aside. 
2. Pump up savings. "Having emergency savings is really key," she said.
Divert a portion of your salary every month to a separate savings account. Most financial experts recommend having at least three months' worth of expenses set aside in an emergency fund or more if you are the sole breadwinner in your family.
3. Pad your retirement plan. If you have access to a 401(k) plan, "maximize contributions now because it could take a while to find a new job and you may not be eligible for a 401(k) right away," Bera Daigle said.
Eventually, you may be able to roll the old 401(k) into your new workplace plan or an individual retirement account but there could be a waiting period of a few months — or even a year — before you're able to participate.
4. Open a brokerage account. If you've met your short-term savings goals and your retirement contributions are on track, consider opening a taxable investment account to help bridge the gap, Bera Daigle advised. (Although brokerage accounts don't have the same tax benefits as a workplace retirement plan, there are no income or contribution limits or restrictions on when funds can be withdrawn.)
For those new to investing on their own, start with an index fund that tracks the broader market, like the SPDR S&P 500 exchange-traded fund. Otherwise, mutual funds can be a great way to diversify your portfolio, although these may have higher minimum investments than ETFs.
Sophia Bera Daigle, CEO and founder of Gen Y Planning.
Even though Bera Daigle is now married with a young son and owns a home in Austin, Texas, she still values her ability to work from anywhere in the world.   
To afford extended trips as a family, Bera Daigle allocates money every month into "savings buckets" — a popular strategy for covering expenses such as travel and entertainment. She also leverages travel rewards and credit card points to save on airfare and hotel stays.
"If I'm not using my money to match my values to live a great life, then I'm doing it wrong," she said.
Read the full article here