In his State of the Union address, President Joe Biden said his administration is cracking down on "junk fees" — including those from banks as well as hotels, airlines and other service providers.
The president said these unnecessary or hidden fees are weighing down families' budgets and causing financial harm.
"Junk fees may not matter to the very wealthy, but they matter to most other folks in homes like the one I grew up in, like many of you did. They add up to hundreds of dollars a month," Biden said in the annual speech before Congress.
What are junk fees?
Junk fees are additional, often hidden charges that can come from a range of lenders. They are not typically included in the initial price of a transaction but are tacked on at the time of payment.
To stop this practice, Biden called on Congress to pass the Junk Fee Prevention Act, which will reduce unexpected charges, such as airline booking fees; service fees for concert tickets; early termination fees for TV, phone and internet services; "resort fees" at hotels; and "excessive" credit card late fees.
"Americans are tired of being — we're tired of being played for suckers," Biden said Tuesday.
More from Personal Finance:
Biden to revisit 'billionaire minimum tax'
Amid inflation, shoppers turn to dollar stores for groceries
Savers poised for big win in 2023 as inflation falls
The initiative has been months in the making.
Last fall, the Consumer Financial Protection Bureau said it was scrutinizing certain fees that catch customers by surprise — and are "likely unfair and unlawful," according to the agency.
The consumer watchdog proposed a new rule earlier this month prohibiting banks from charging surprise overdraft fees on debit transactions and reducing typical late fees from roughly $30 to $8, saving consumers as much as $9 billion a year, according to the White House.
"Despite recent progress in addressing overdraft fees, the job is far from complete," Nadine Chabrier, the Center for Responsible Lending's senior policy counsel, said in a statement.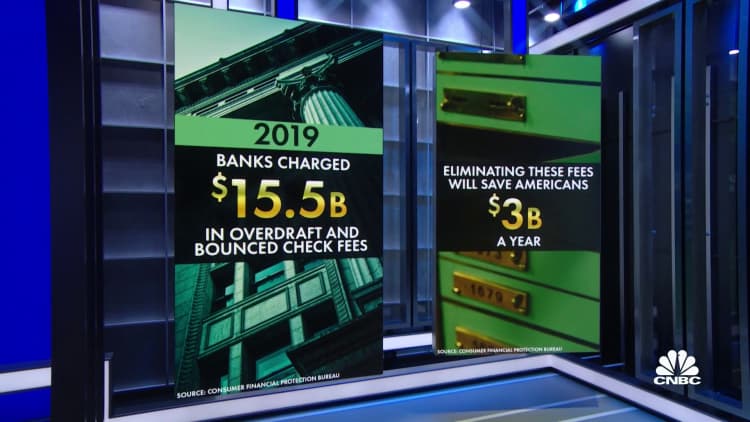 "The Consumer Financial Protection Bureau took a big step by banning surprise overdraft fees," she said. "We are encouraged that the consumer bureau announced it will take additional steps, and we urge the bureau to place strong limits on the size and frequency of these fees."
More than a quarter of checking account holders, or 27%, are regularly hit with fees, which can add up to an average of $24 per month, or $288 per year, according to a recent survey from Bankrate.com. 
The average overdraft fee costs $29.80, Bankrate's research found, while the average nonsufficient funds fee is $26.58.
Some banking interest groups countered that offerings such as overdraft protection provide a much-needed safety net.
"The president's use of the term 'junk fee' is overly broad and ignores the needs of low-income and middle-income consumers who depend on these services to resolve short-term financial difficulties," Jim Nussle, president and CEO of the Credit Union National Association, said in a statement.
"It does not consider the costs involved in providing needed financial services that consumers depend on."
Without the option of overdraft protection, "people are more likely to turn to predatory lenders, hurting the same people the administration seeks to help," Nussle said.
Subscribe to CNBC on YouTube.
Read the full article here