Cardano has established itself as a top project for developer activity, consistently appearing among the top three. 
As a result of this trend, more investors and analysts are paying close attention to the price changes of Cardano to gauge its potential in the future.
Cardano (ADA) had a terrible year with massive price fluctuation like the rest of the cryptocurrency market. 
It ended the year at $0.2456, and notably, it has grown to reach its current price of $0.4017. 
However, Cardano surpassed many protocols regarding development activity in 2022.
Cardano Ranked Among Top 3 Crypto Protocols By Development Activity
Cardano, Polkadot (DOT), and Cosmos (ATOM) are rated as the top protocols in terms of development activities. 
The analytics platform Santiment released the report on December 30, 2022.
Also, Santiment recently published its Top 20 crypto asset development activity over the previous 30 days on April 27. 
Polkadot (DOT), Kusama (KSM), Cardano (ADA), Cosmos (ATOM), and Hedera (HBAR) were the top 5 of this latest report. 
Notably, MutliversX (EGLD) and Aptos (APT) were also listed among the top 20.
Sentiment compiled its list based on asset development activity. It specifically monitored each project's GitHub activity while removing unrelated data. 
Sentiment created a list of leaders for its development activity metric in response. 
According to Santiment, the top performers on this statistic guarantee three things:
Strong believers of the project.
The project will deliver more features.
There is less probability the project is an exit scam
Moreover, CoinMarketCap data shows that the last 24 hours saw almost $320 million worth of Cardano (ADA) traded across significant exchanges with a market cap of $14 Billion. 
Its current CoinMarketCap ranking is #7, with a circulating supply of 34,802,305,447 ADA.
Cardano (ADA) Price Prediction And Price Trend
Below are different analyses from various technical analysis indicators such as the Moving Average Convergence Divergence (MACD), Simple Moving Average (SMA), & Relative Strength Index (RSI) of Cardano (ADA).
There was a change in market structure due to the 50-day SMA's shift in direction, and the trend may continue going bearish if the bullish momentum remains weak. 
By crossing below the 200-day SMA, the 50-day SMA has created a death cross, indicating a potentially bearish signal and a potential selling opportunity.
At the time of analysis, the  Relative Strength Index (RSI) of ADA/USD is 49.74, slightly below the neutral zone.
Therefore, this shows that ADA is neither in the overbought nor oversold zone. 
However, the buyers are building momentum to take ADA to the overbought zone while the sellers push it down.
The MACD line is slightly above the signal line; the indicator is considered bullish but will likely cross below the signal line if the bullish momentum remains low.
The histogram is above the zero line and is also increasing in size; this indicates possible bullish momentum.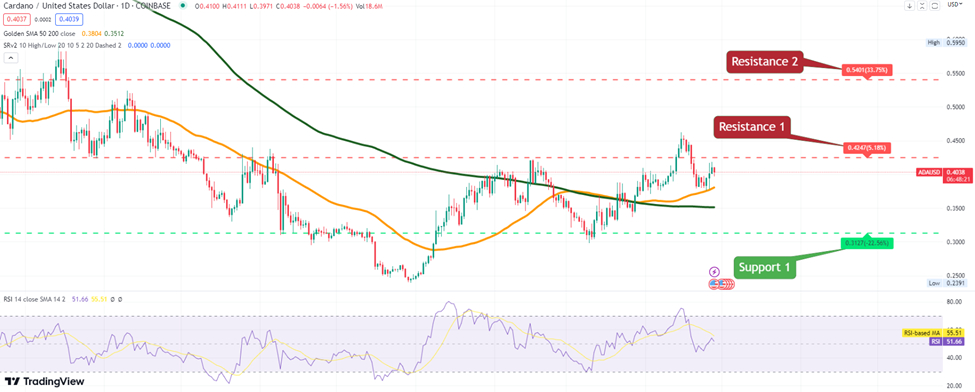 If bulls build strong momentum, the price may exceed its resistance level of $0.5242.
On the other hand, if bears take control of the trend, ADA's price could fall to $0.3395.
Cardano (ADA) Alternative To Consider
While Cardano is down in the market today, there is a green crypto initiative you can invest in for rewards.
Ecoterra is a green cryptocurrency initiative introducing the recycle-to-earn method to reward users for safe environmental practices. 
The environment is under severe stress from various pollutants, such as carbon emissions, destroying several ecosystems.
However, proper waste management ensures the environment is safe while eliminating potential health hazards.
Ecoterra tokens power activities on the platform and are currently on presale at $0.007. 
The token's price will increase to $0.00775 in a few days.
Early investors stand a chance to gain massive returns of 150%. 
Also, Ecoterra is currently hosting a giveaway event worth $1,500 for users that complete tasks.
Buy Ecoterra Now


Read the full article here