Barclays (NYSE:BCS) delivered a blowout Q1'2023 earnings. There was also much to like about the quality of earnings and their sustainability going forward.
As I mentioned in my prior article, BCS is incredibly well-positioned to deliver ROE greater than 10% throughout the cycle, yet it is still trading at a fraction of its book value. The Q1 earnings demonstrated that this bank is a picture of rude health. I believe it is a much better risk/reward opportunity than owning, for example, some of the U.S. regional banks given regulatory and other uncertainties.
The Thesis
Barclay's earnings yield is currently well above 20%. It should be able to return an inordinate amount of capital to shareholders in dividends and share buybacks. I expect BCS to announce a sizeable share buyback (~GBP1 billion) in the Q2 earnings call and also in the full-year earnings. I expect also progressive dividends in the range of ~5% on current prices.
The quality of earnings is improving as well. The more accrual businesses such as Barclays UK ("BUK") and Consumer Cards and Payments ("CCP") whereby the reliance on the Corporate and Investment Bank ("CIB") which is seen as more volatile, is lower.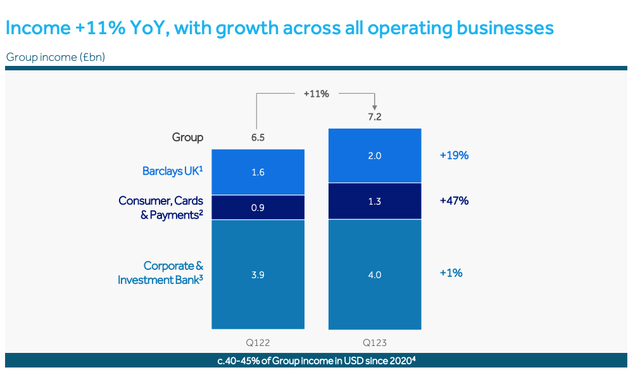 So to surmise, BCS has a well-diversified business model that should deliver returns greater than 10% ROE throughout most economic cycles.
The Stellar Q1 Earnings
BCS delivered an overall 15% RoTCE in Q1 which is an exceptionally strong result. The tailwinds included the followings:
The biggest driver is rising interest rates especially driving performance in BUK
Strong FICC trading income in the investment bank. CIB, overall delivered 15% ROE in Q1 despite headwinds from investment banking fees. Investors may recall that only 3 years ago, most analysts concluded that CIB is unlikely to be capable of earning its cost of capital (10%) sustainably.
Strong cost discipline and the absence of legal and conduct charges impacting prior periods
As seen from the below slide, BUK has delivered a strong 20% RoTCE driven by higher interest rates: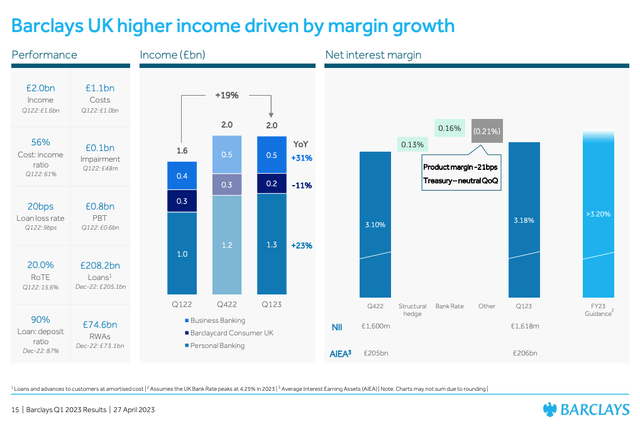 Impressively, the efficiency ratio has dropped to ~56% from 61%. I expect BUK to continue and deliver higher returns as the net interest margin ("NIM") is expected to grow in 2023 and beyond driven by the structural hedge.
BCS's structural hedge continues to drive higher interest income, especially in the outer periods, as the hedge reprices quite mechanically to factor in higher rates: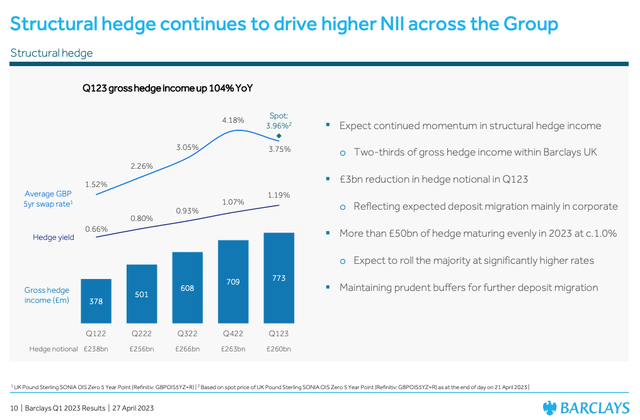 The benefits from the structural hedge are likely to benefit BCS's bottom line for a number of years to come as the hedge yield reprices.
The Corporate & Investment Bank
The CIB is going from strength to strength as well under different market conditions. For example, in Q1'2022, BCS reported a strong print driven by Equities trading and investment banking fees. In Q1'2023, the profit drivers were in the FICC trading and transaction banking (benefiting from higher rates):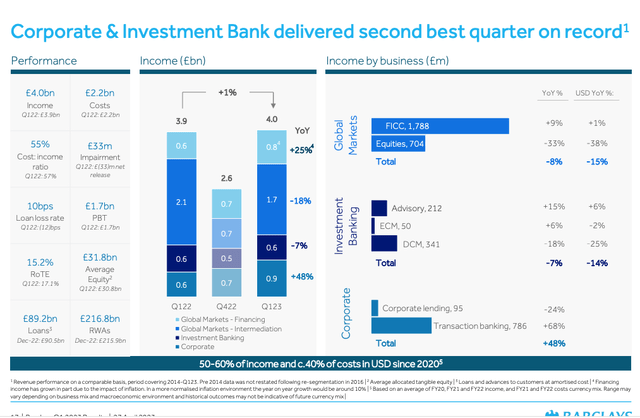 All in all, the CIB has delivered over 15% of RoTE in Q1'2023.
Consumer Cards and Payments
The CCP operational performance has also improved in Q1'2023, albeit the returns, at 10% RoTCE, are lackluster. The key reason is the material investments being made in the likes of Cards portfolio (such as the Gap portfolio). The income typically lags and follows a J-curve investment return profile. I expect the returns in CCP to grow in subsequent periods.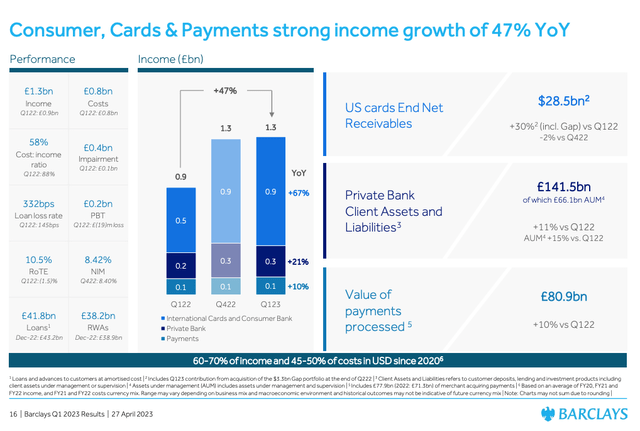 No Unrealized Losses Risks
Unlike some of the U.S. regional banks who negligently mismanaged their interest-rates exposures, there are no such concerns with Barclays. The high-quality liquidity portfolio is shown in the below slide: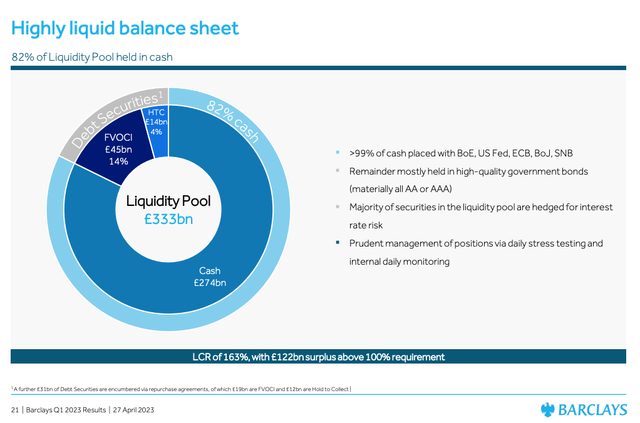 There is a small exposure to interest rates risk and even that risk is hedged and stress tested on a daily basis. The contrast to some of the U.S. banks' mismanagement of asset-liability matching is stark.
Credit Provisioning Is Conservative
Barclays' credit risk and provisioning methodology is a conservative one where coverage ratios are high and management also applies a "macro uncertainty" overlay in addition to the models-driven approach.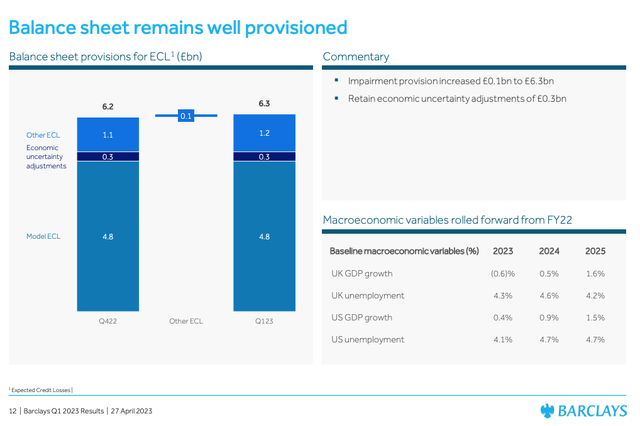 The total impairment provision as of Q1-2023 is GBP6.3 billion. Like all banks, BCS sets aside a provision for lifetime expected losses as required by the IFRS9 accounting standard. Notably, BCS's loss coverage ratios for UK and U.S. Credit Cards balances are 7.7% and 8.9%, respectively. These are more conservative loss coverage ratios than peers such as Citigroup (C) and JPMorgan (JPM).
Final Thoughts
BCS's business model is diversified and should perform well throughout the economic cycle. It is also a very conservatively managed bank whereby both credit and interest rate risks are well managed.
It is delivering an earnings yield of ~20% and whilst some of that organic capital generated will be retained to grow the business (such as small acquisitions and targeted investments), most of it is likely to be returned to the shareholders in the form of dividends and share buybacks.
Buying back shares for 50 cents in the dollar is exceptionally accretive. BCS is not a core part of my income portfolio and I have been accumulating during the recent dip.
Read the full article here