Roblox (NYSE:RBLX) stock crashed as much as 12% on Tuesday 17th April, after the company reported key metrics for March 2023. However, the markets' reaction appears to be guided more by investors taking profits on YTD gains (Roblox stock being up as much as 60% prior to the March metrics press release), rather than a sophisticated reaction on 'new' information. In fact, in my opinion, the March report confirmed nothing else than stronger than expected DAUs and user engagement, which prompted me to revisit my 2030 assumptions and target price for RBLX.
Going into the 2H of 2023, profitability – especially in context of an advertising ramp-up on the platform – could be a catalyst for RBLX' next leg for share price appreciation. And accordingly, I argue the recent pullback in valuation could be a good entry price for prospective and existing RBLX investors to initiate or increase a position.
For reference, Roblox stock continues to outperform. For the trailing twelve months, RBLX shares are up about 18%, as compared to a loss of only about 6% for the S&P 500 (SP500).

Roblox' March Key Metrics
Despite facing headwinds from reduced screen-time as compared to the COVID period, as well as intensifying competition for user engagement among social media platforms such as TikTok and Instagram, Roblox continues to bring its user base and engagement numbers to record levels.
In March, Roblox achieved once more strong user number, with Daily Active Users (DAUs) jumping to 66.2 million, a 26% YoY increase versus March 2022. Hours engaged also increased by 26% YoY, to 4.8 billion. With regards to monetization, Roblox disclosed that estimated revenues for March 2023 will likely fall between $212 million to $223 million, representing a 15% to 21% increase from the previous year, while bookings are likely to range from $247 million to $255 million, a 23% to 27% YoY growth respectively. In addition, management pointed out that fluctuations in foreign currency exchange rates had a negative impact on the YoY growth rates, representing a headwind of about 3% for the March 2023 period versus March 2022.
BofA equity analyst Omar Dessouky mapped Roblox' booking numbers since January 2022, which clearly shows improving monetization for Roblox – a trend that analyst Dessouky expects to continue. [BofA, Research Note on Roblox, 17th April]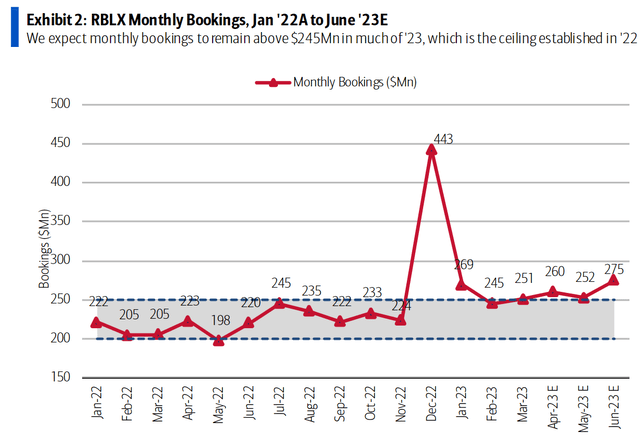 Innovation & Advertising To Drive A Strong 2023
Approaching Q2 and the 2H of 2023, I see an exciting innovation pipeline that might materialize upside as compared to analysts' projections. According to Roblox management guidance, potential product launches for 2023 could include (i) a complete transition to a limited items economy, (ii) real-time facial recognition, (iii) broader motion capture, (iv) dynamic heads, (v) user-generated content avatar bodies, and (vi) immersive advertising.
Moreover, given the growing interest in potential business applications of generative AI, it is noteworthy that Roblox is currently also (vii) testing ways in which this technology could benefit game developers. While I do not think a product launch in context of generative AI is likely for 2023, I believe further progress on the technology through R&D and management communication might push positive news flow.
With regards to monetization upside, I would like to underscore the potential of RBLX' advertising opportunity, which I expect to launch in Q3 or Q4 2023: Investors should consider that Roblox users cumulatively spend approximately 60 billion hours on the platform annually (extrapolating March metrics and adding a reasonable growth estimate). Now, if we consider that for each hour of engagement Roblox could potentially deliver about five ad impressions, and each impression could reasonably be valued at 0.7 cents (as per Facebook ads), Roblox could potentially generate about $2.1 billion in incremental revenue from advertising alone. It's worth noting that this estimation does not take into account any potential user growth, which could further expand the platform's advertising revenue potential.
In terms of the delivery of advertisements, Roblox has for example the potential to incorporate them in the form of either billboards (simple impression) and/ or portals (immersive), which can lead users to experiences such as Vans World, NIKELAND, or Spotify Island.
Valuation Update: Raise TP To $63.60
I have previously assumed that Roblox will likely have about 325 million active users by 2030, and I estimated a bookings and ad revenues of $58/DAU, with a 24% profit margin (in line with tech and gaming companies).
Reflecting on faster than expected user-growth YTD, I now raise my 2030 DAUs estimate to 350 million, at the expense of lower ARPU as well as net profit margin, to $50/DAU and 24% respectively.
According to these assumptions, I now calculate a fair implied target price of $63.60/ share.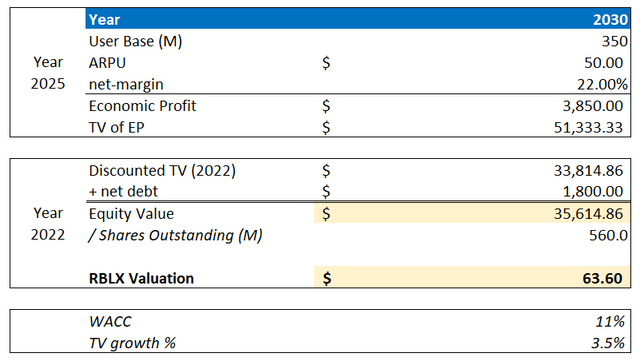 Risks
As I see it, there has been no major risk-updated since I have last covered RBLX stock. Thus, I would like to highlight what I have written before:
First, Roblox has a history of writing losses-and still is. That said, there is no guarantee that the company will reach operating profitability as expected for late 2023-or ever. Second, Roblox' value thesis is in the future, which is speculative. Estimating a company's operations and business fundamentals for multiple years is highly difficult and imprecise.

Third, Roblox appeal is supported by the hype surrounding the metaverse. That said, the metaverse might develop at a much slower pace than expected, as VR/AR and 5G development and adoption slows. Or in general, the metaverse (the VR digital experience) might turn out less impressive than expected.

Fourth, much of Roblox' current share price volatility is driven by investor sentiment towards risk and growth assets. Thus, investors should expect price volatility even though Roblox's business outlook remains unchanged.
Conclusion
Roblox stock crashed about 12%, after the company reported key metrics for March 2023. I disagree with the market price action, because I do not see the report as bad: In March, the company's user base jumped to 66.2 million (DAU), up 26% YoY. Similarly, platform engagement increased to 4.8 billion hours, also a 26% YoY growth respectively. In addition, approaching the 2H of 2023, I see an exciting innovation pipeline and advertising potential that might materialize upside as compared to analysts' projections.
As Roblox continues to innovate, grow its user base, and capture consumer engagement, I update my 2030 expectations for Roblox and I now calculate a fair implied share price equal to $63.60/ share. Roblox continues to be a 'Buy'.
Read the full article here