Introduction
There is a myriad of factors that affect the price of a commodity such as silver, However, we will take a look at just one of them today, which is supply and demand.
The Silver Institute recently published figures suggesting that the total global silver demand was a record high of 1.24 billion ounces in 2022. The chart below outlines these supply and demand positions and shows us that the supply has remained fairly constant over the last two years. However, the demand has increased by around 20% over and above the supply creating a structural deficit of around 237 million ounces.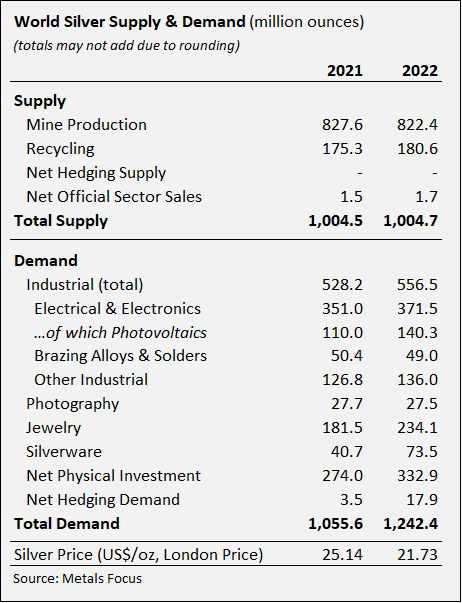 It is difficult to see where the supply of silver can be increased as the construction of a new mine takes years given the regulatory constraints, environmental impact requirements, construction costs, borrowing costs and the logistical difficulties that need to be overcome.
The Five-Year Silver Chart
Silver has been extremely volatile over the last few years as the chart below indicates. The breakout in 2020 has been difficult to hold as the price of silver oscillates wildly on a monthly basis. The Green Dream is alive and well and driving the demand for silver which in turn has exerted pressure on the price which now stands at $25.23/Oz.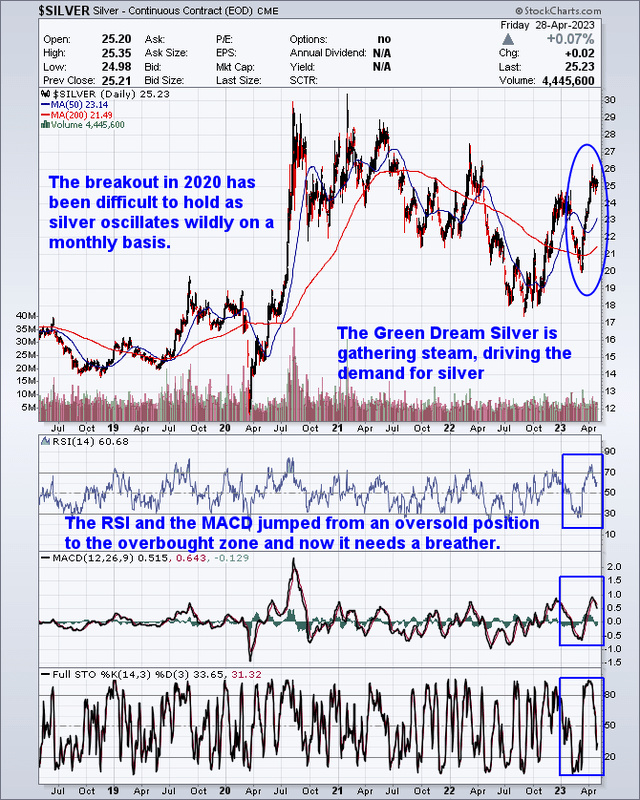 It is difficult to see supply increasing in the near term, but it is not hard to imagine the demand increasing as regulatory pressures for a cleaner world tighten their grip on the use of fossil fuels. I expect these pressures to drive the price of silver back up to the $30/Oz level, which it flirted with just one year ago, by the end of this year.
The Future Of Silver Producers
It is a puzzle to me that the silver mining companies remain unloved and out of favor with the investment community. I for one expected silver prices to be trading at much higher levels by now and maybe other investors were of the same mind and so it is a disappointment not to see silver sparkle as one imagined and so the silver stocks remain in the doldrums somewhat. Now, is this situation a problem for us or is it an opportunity? I have been long silver stocks for some time such as SSR Mining (SSRM) back when it was Silver Standard (SSRI) when I acquired it for the princely sum of $9.25 in 2017. It has increased by 54% since then but it has taken 6 years which is not a great investment, at least not yet it isn't. Being too early into an investment is one of my many flaws so you have been warned.
However, the static supply of silver and an increasing demand does skew the risk/reward factor in favour of the silver miners, so I remain positive that this sector of the market is the place to invest at least some of your hard-earned investment cash.
Also I would like you to consider the possibility of a wild card such as one of the large automotive producers recognizing the need for an increasing supply of silver to sustain their manufacturing business. The possibility of securing a supply of silver via the acquisition of a silver mining company or at least enough stock to give them influence at board level must be tempting for them. If that were to happen then other auto manufacturers would follow suit and that could be a game changer in the precious metals space.
Taking a quick look at the Gold/Silver Ratio we can see that it is down from a high of 130 back in 2020 to 79 today. The MACD and the RSI are low, suggesting a rise in this ratio in the near term.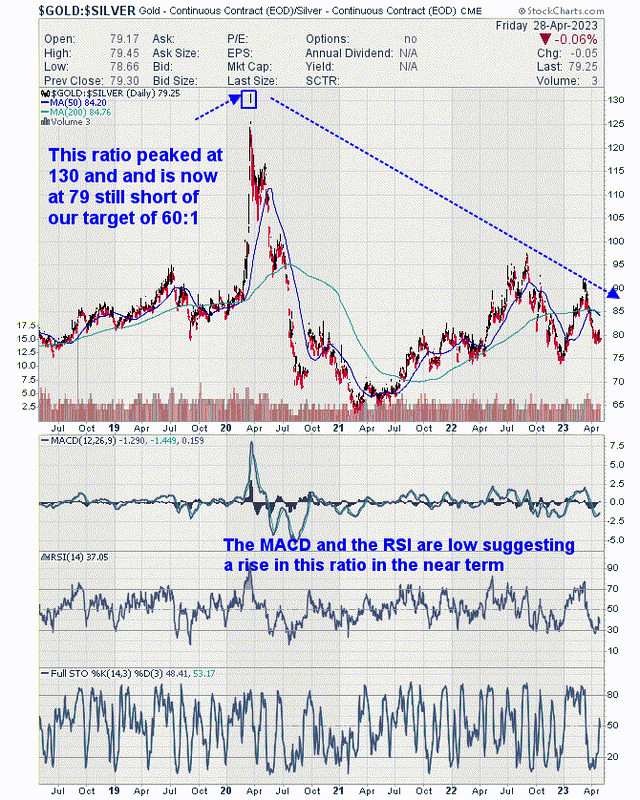 Conclusion
Supply and demand are now skewed in favour of going long on silver and the silver stocks.
The possibility exists for a big silver user to 'Buy The Supply' via the acquisition of silver mining stocks. It is a surprise to me that the large manufacturers of EVs, Flat screen televisions, computers, etc., haven't made a move to secure a constant supply of silver, in order to meet their future needs.
If you are new to the precious metals sector then start by acquiring some physical silver, even if it's just one coin at a time, and build from there. The mining stocks offer a certain amount of leverage to silver, but stocks come with a number of risks which you need to be comfortable with before placing your trades. Options trading offers leverage to the stocks and can be explosive but take great care with them as they can fall to zero value in the blink of an eye.
For the record, I have been long physical gold and silver for a number of years and also own a portfolio of stocks in the precious metals sector including Sandstorm Gold Ltd (SAND), Wheaton Precious Metals Corp (WPM), Agnico Eagle Mines Limited (AEM) and SSR Mining Inc (SSRM).
Got a comment? Then, please fire it in whether you agree with us or not, as the more diverse comments we get, the more balance we will have in this debate and hopefully, our trading decisions will be better informed and more profitable.
Go gently but make decisions now and acquire at least a small holding in the silver metals sector as this bull is on the move.
Read the full article here